We absolutely love hen weekend decorations and accessories. What better way to turn the weekend into something really special. To save you time searching for classy accessories we've teamed up with The Hen Planner to get their choice of 10 best hen weekend accessories to make your weekend totally instagrammable…
"…In case you missed the memo, chic and classy hen parties are so in! And let's be honest here, most of us have moved on from the typical tacky hen parties anyway. Get ready to throw a gorgeous hen do that everyone remembers for the right reasons with these classy and Instagrammable Hen Party Accessories…
1. Hen Party Balloons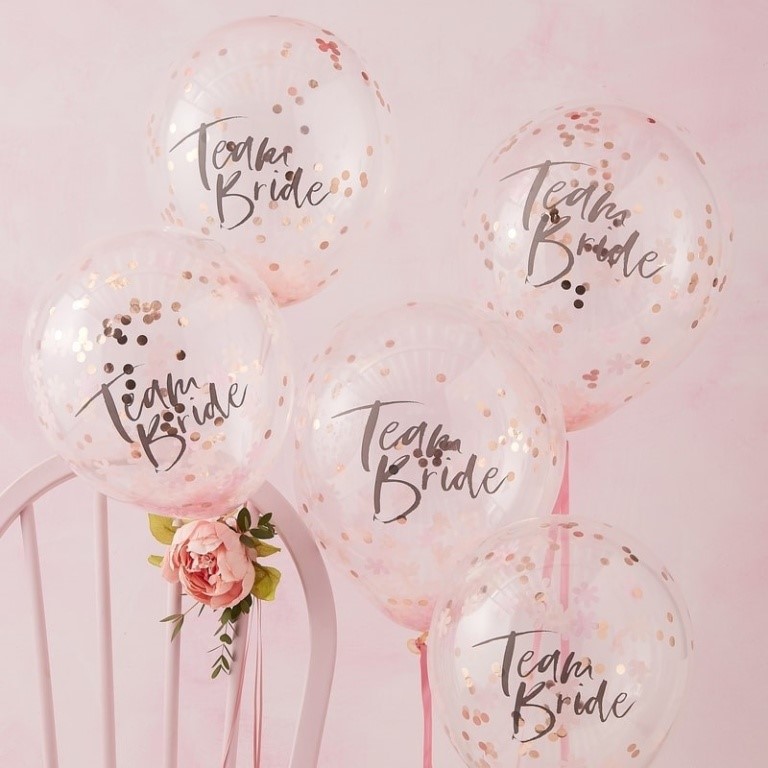 First up, make a statement! The 'setting' is everything for a classy and instagrammable hen party. Bring your hen party photos to life with some simple, statement balloons like these pretty confetti Team Bride Hen Party Balloons.
2. PROSECCO BAR
Next up, for your stylish hen do, is welcoming your hen party guests with the ultimate treat, a prosecco or bubbly bar! This wall is specially created for filling with your glasses of prosecco or other drinks. This will get the party started and be a good icebreaker.
3. THE HEN BOOK
One of our recommendations for every hen party is a hen book. You can prepare this in advance of the hen do and get messages and photos from friends and family (the more embarrassing the better!) Alternatively, you can get the hen guests to sign this on the hen itself and take lots of photos with a polaroid. Either way, the bride will love it. And we adore this gorgeous blush pink and rose gold henbook.
4. HEN PARTY BAGS
Everyone loves a little surprise. Treat your hen party guests with a goody bag packed with some essentials for your hen party celebrations. Pop in a hen party accessory, some water, a snack and some hen party games. Don't forget a special bag for the bride!
5. STATEMENT HEN PARTY HAIR CLIPS
2020's coolest hen party accessory are these stunning word hair clips. They're available in BRIDE and TRIBE in a mix of rose gold, yellow gold, pearls and rhinestones. These are a classy addition to your hen party bags and an accessory all your guests will love.
6. CLASSY HEN PARTY SASHES
Hen party sashes have never looked better! Whether you are planning a pretty and pink hen weekend or a classy botanical hen vibe, we have a collection of sashes to coordinate perfectly with your theme. And there are sashes for all your hen party guests including the mums!
7. HEN PARTY STRAWS
A cute little paper straw with a flag never hurt nobody! These straws with Team Bride flags are a cute addition to your hen party tableware. They also make great photo props!
8. HEN PARTY GAMES
Games are your hen party essential. It is not a hen party without a few games. Mr and Mrs is a must. Include some backup games to play when there is a bit of a lull to keep the hen vibes going. These Advice for the Bride cards are perfect. Pop them in the goody bags and ask the guests to fill them out.
9. HEN PARTY PROPS
We can't say it enough. Don't forget to take photos! This is so important on a hen party. Having a few props scattered around the room will encourage your hen squad to get their best selfie on and ensure you have lots of photos to share with the bride after the hen weekend.
10. KEEPSAKE FOR THE BRIDE
The loveliest way to close off a hen weekend is to ensure the bride relives the hen party again and again with all those pretty (and x-rated!) hen party photos! Surprise her by popping this gorgeous photo album in the post the week after the hen party. Bring on the happy tears!
You'll find all these gorgeous hen party accessories and more on The Hen Planners website. Keep an eye out for our gorgeous botanical hen party collection which is dropping very soon."

We're experts in making hen parties happen. After all, your weekend is more than just a beautiful cottage and activities. It's about the experience; from your initial thoughts all the way through to coming home exhausted having had the best hen weekend EVER! With over 10 years of hen party organising know-how, sourcing beautiful cottages & activities, building supplier relations, developing easy to use payment systems and IPP protection to keep your money safe, we aim to give you the best hen weekend possible with the least amount of stress. Contact us and get the conversation started.