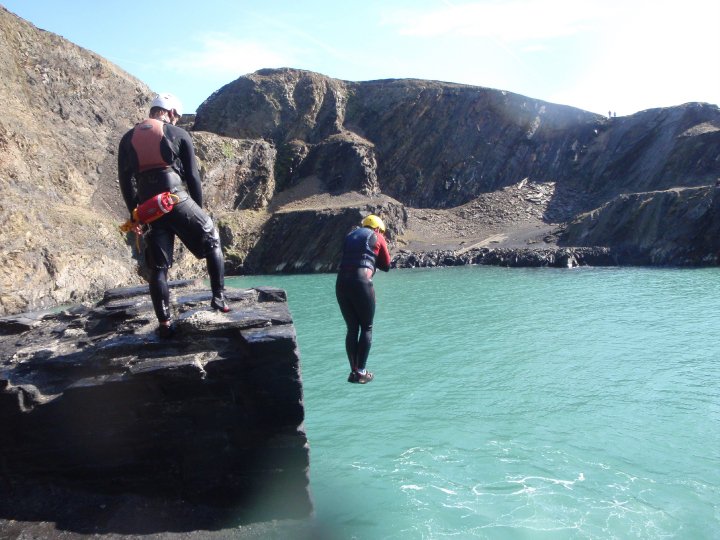 Coasteering
Scramble over rocks,  jump off cliffs and swim in the sea
Perfect for those who love a high octane lifestyle
Expert to show you the way
We can organise taxi transfers if needed
All safety equipment is provided
For the more adventurous hen groups
Available: Tenby
Activity Highlights
Ever fancied scrambling over rocks, jumping into the sea and challenging yourself to clamber around the British coastline? This great fun activity is definitely for the more adventurous hen groups who love to do all the things your parents told them not to do on the beach as a child!
Arrive at the venue at the prearranged time
We can arrange the transfers should you wish
You will be met by an expert who will provide you with a safety briefing and all the relevant safety equipment
Get yourselves ready and off you go for an adrenalin filled, energetic experience that you'll never forget
Scramble over rocks, jump off cliffs and swim in the sea, coasteering is perfect for those with a high octane lifestyle
Watch Rhod Gilbert go coasteering in Pembrokeshire courtesy of Visit Wales…
Other Ideas: Surfing, Canoeing, Windsurfing, White-Water Rafting
I just wanted to email you to say thank you SO much for all your help organising the weekend, It really was fantastic and everything went so smoothly! I'm so grateful and will be recommending you guys to all my friends.
Get a hen weekend quote
We're currently receiving a large amount of new enquiries so it may take a few days for us to reply.  We are a small team working from home so please could you email one enquiry per group, if possible. For a faster response, please state the date you're looking to go, the number of people in your group, the type of weekend it is, the package you're interested in and the property you like.  Please note we offer packages that can be tailored to suit you (NOT accommodation only).