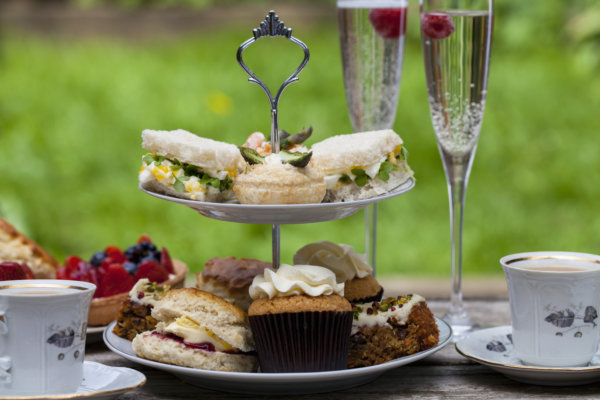 Afternoon Tea Party
Pinkie's up, it's tea time
Feast on delicate sandwiches, jam scones, decadent cupcakes and other culinary delights
Served on vintage crockery and crisp linen
Based in your cottage with everything coming to you, or, in a local tea room
Upgrade available, to include a glass of bubbles or Pimms
Minimum of 10 people
Dress Code: you choose but it can be the perfect excuse to dress-up
Available: Bath, Bristol, York, Canterbury, Cheltenham, Harrogate, Oxford, Derbyshire, York, Bournemouth, Cambridge, Chester, Edinburgh, Hereford, Leeds, Newcastle, Norwich, Nottingham, Sheffield, Taunton, Tenby, Wells, Winchester
Activity Highlights
Pinkies up, napkins ready, it's time for a wonderful afternoon of tea. If you're looking to reduce your hen do culinary stress, why not get the experts to feed the hen group for you? It's a fabulous activity for not only feeding the hoards but also bringing a sophisticated feel to your weekend. Our friendly tea team comes to your accommodation armed with a whole host of delicious delicacies. Tuck into delicate sandwiches, delicious scones, bountiful amounts of cakes & sandwiches most likely with the crusts off. Best of all, it's all cleared away afterwards so you ladies don't even have to get your hands dirty. Of course, if you don't fancy having it in your cottage we can arrange for you all to have tea in a local Tea shop, just let us know.
...the afternoon tea was beautifully presented, and delicious! There was more than enough of everything and they even catered for our gluten free guest.
How it works?
Our gorgeous tea ladies will come to you in the comfort of your own cottage to set-up for tea at the prearranged time
They will bring beautiful vintage crockery and linen needed to ensure the event feels really special
At the designated time, you and the hens will be invited to sit down and start enjoying a whole host of delicate sandwiches, delicious scones and decadent cupcakes
The tea ladies will be available throughout the activity to serve and clear and generally make it a time to remember
In certain cottages you may also enjoy a glass of bubbles or Pimms with your afternoon tea – ask us for details
At the end of the event, everything is taken away so you can sit back and digest in comfort
If enjoying Afternoon Tea at a local tea room, we can help arrange the transfers
Dress Code: isn't this the perfect time to get your ladies to bring their finest attire and look the part for an afternoon of decadence?
Different venues vary so please talk to your holiday advisor when booking for the exact details of the activity
...The Vintage afternoon tea party was brilliant. The two ladies were really warm and lovely and the table looked really pretty with the vintage crockery. The food was very yummy and went down very well!! And there was plenty of it, we all brought home a cupcake! It was nice that they played music in the background and had a dressing up box for photo opportunities!
Something Similar
Both the Vintage Afternoon Tea and the Chef dining experience were amazing. Everyone thoroughly enjoyed both, especially the dressing up props for tea and being served a wonderful three course meal.