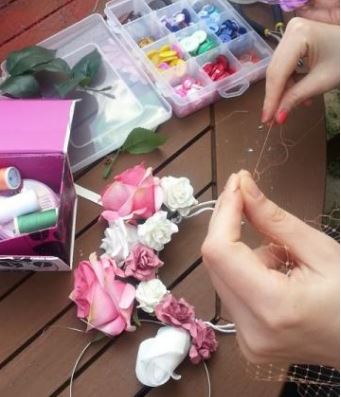 Flower Crowns
Design and create beautiful seasonal flower crowns
Can be linked to the wedding theme & colours
1-2 hour workshop under the watchful eye of our expert
All materials are brought to your cottage
Templates are supplied
Done in the comfort of your cottage
For hen groups who love crafts and accessories
Available: Nationwide
Activity Highlights
Make a beautiful flower crown, perfect for any wedding or celebration. These wonderful accessories make great mementos for your hen weekend
At the prearranged time our tutor will arrive at your cottage and set-up for the workshop
Let our expert guide you as you design & make your flower crowns
Our expert can inspire you with lots of beautiful fabrics, buttons, and different templates and show you how to make them from fabrics and wire
If you let is know your theme and colours of the wedding beforehand, we can match the fabrics, buttons, lace and ribbons brought to the session
Your tutor will provide a bounty of quality faux flowers, wire, ribbons and help you structure your crown for shape, variety and a comfy
Everyone can select flowers to their preferred colour scheme and create to their own taste
A 1-2 hour workshop under the watchful eye of our expert
As sessions vary depending on your location it is always best to ask your holiday planner for the exact details of your activity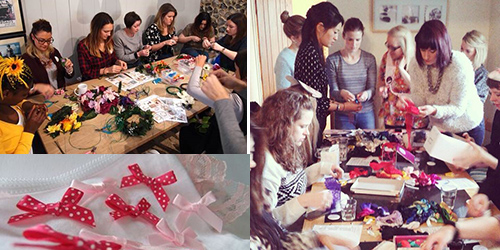 Other Ideas: other craft workshops such as garter making, knicker customisation, flower crown making, bunting, nipple tassels, cocktail rings
The craft ladies were brilliant. The hen herself was very excited to be making something for her wedding and with 18 of us working together we made much more than they expected! They bought some fabulous vintage fabrics and were the perfect amount of helping yet keeping out of the way at the same time!
Get a hen weekend quote
UPDATED 11-OCT-21 Thank you for contacting us. We are currently overwhelmed with new bookings and enquiries. We will not be accepting new enquiries until the 1st November. After that date you can email us if you'd like to arrange a Hen Weekend for January 2022 onwards: [email protected] Existing customers can get in touch directly with their personal Acacia contact.
Thank you ♥ for your understanding …The Acacia Team x