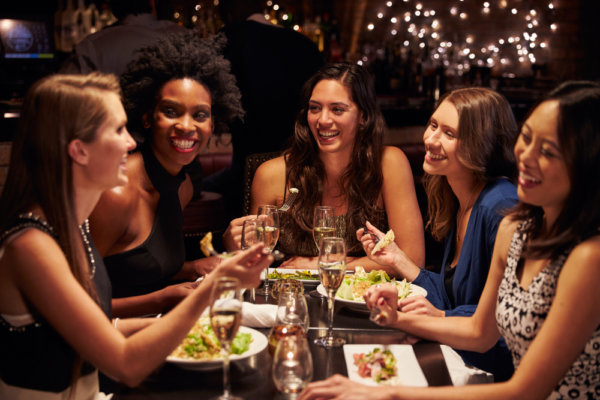 Meal Out
Enjoy the delights of a delicious meal in a local restaurant or gastro pub
We can arrange taxi transfers to and from your restaurant
We will book your table at a time & date you would like
You pay for your two or three course meal before you go (excudes drinks & service)
We have a wealth of hen-friendly restaurants renowned for good food and great vibes
Choose from local gastro pubs to city centre restaurants
Available: At most cottages
Activity Highlights
A really special part of a hen weekend is the fun you have sitting round a table eating, drinking and telling all the funny and wonderful stories about the bride-to-be. Book your meal in advance in a restaurant which caters for hen parties to ensure you have no stress on the night!
You let us know when & what time you would like to go out for your meal and we will try and ensure you get what you want
We can advise you on the best local hen friendly restaurants around depending on what you are looking for
Choose from a 2 course or 3 course meal before you go paying for the meal upfront – drinks and service are not included in the price so remember to have money to cover them on the night
We can arrange taxi transfers to and from the restaurant as no-one wants to be hanging around on the pavement trying to flag a taxi
With everything arranged before you go on the weekend, all you have to do is sit back and enjoy!
Other Ideas: Cocktail Making, Champagne Afternoon Tea, Wine Tasting in your cottage, Chef dinner
Just wanted to thank you for organising the hen weekend for me....we all had a brilliant time...all the activities booked were lovely and the cottage was just beautiful! It took the stress out of it all having you to help :)
Get a hen weekend quote
UPDATED 11-OCT-21 Thank you for contacting us. We are currently overwhelmed with new bookings and enquiries. We will not be accepting new enquiries until the 1st November. After that date you can email us if you'd like to arrange a Hen Weekend for January 2022 onwards: [email protected] Existing customers can get in touch directly with their personal Acacia contact.
Thank you ♥ for your understanding …The Acacia Team x