Murder Mystery Event
Organised in the comfort of your cottage
An interactive murder mystery event personalised to you
Run by professional actors with well prepared scripts, great set-pieces and comedy
Choose from a range of different scripts or we can create a completely new one especially for you
You will be given a script so you and your friends can play along as you wish
There is an option for the event to be filmed, just ask for details
Available: Nationwide
Activity Highlights
Run by actors with strong murder mystery story lines, great set-pieces and comedy. You really will have the most memorable night! Each script is rehearsed beforehand so you can enjoy your evening safe in the knowledge that it isn't being made up on the spot!
Before the event:
You will be asked to provide information about yourselves, it's really good if you can all provide stories or funny facts about different members of your group (especially the bride or birthday boy /girl) which you feel may be fun to have included in the evening
You will be sent a list of the characters so you can plan ahead in terms bringing any props or dressing-up – you don't have to do this if you don't want to!
On the night:
The actors will arrive at the prearranged time
You will all be given a script so you and your friends can play along throughout the event as much as you wish
The event will start!
Any special requests such as fancy dress and themes can be worked into the scripts or a completely new script can be created based on what you or the bride-to-be are into!
There is an option for the event to be filmed, just ask for details
Activities vary based on your location so please talk to your holiday advisor when booking for the exact details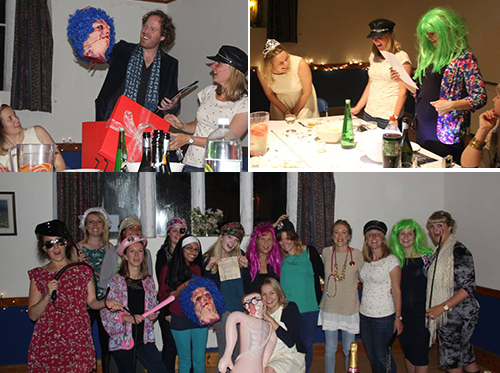 Other Ideas: If opting for a Vintage script you could have a Vintage make-over beforehand. Alternatively, combine the murder mystery event with a chef dinner to make your celebratory evening even more special.
Murder Mystery – this was brilliant! Everyone got involved and really took on their characters! The actors were brilliant. We really really enjoyed it. The storyline was great!