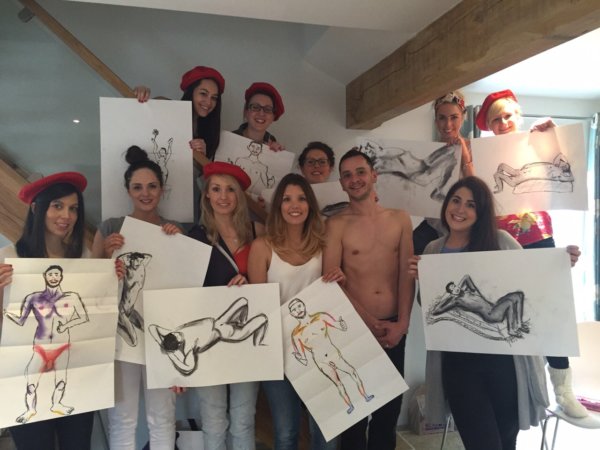 Life Drawing
Cheeky but tasteful art class
Refine your drawing skills under the watchful eye of our expert
A fun workshop with a male model and games
All skill levels accommodated and guidance given
Minimum of 10 people
Cottage based activity
Dress Code: comfortable clothes and berets
Available:  Bath, Bristol, York, Canterbury, Cheltenham, Harrogate, Oxford, Derbyshire, York, Bournemouth, Cambridge, Chester, Edinburgh, Hereford, Leeds, Newcastle, Norwich, Nottingham, Sheffield, Taunton, Tenby, Wells, Winchester
Activity Highlights
Our Acacia Life Drawing Classes are available to anyone from the complete novice who excels at drawing stick people to the expert who enjoys creating masterpieces. Our professionals are great at adapting the workshop to you. Whether you are looking for a fun and lively workshop or a more quiet and studious one they will make it right for you so that you have the best experience possible.
Our skilled artists come to your Acacia Cottage and set-up ready to deliver you a fun workshop centered around the male model and lots of games
Situated around the room with the male model in the middle, you can choose which ever angle you would like to sketch
Our expert artist will come with all the materials that are needed to make the event successful, so all you and the hens have to do is sit back and gather some perspective
The drawing starts with fast paced sketches, games and lots of laughs. As you gain in confidence the whole class can be slowed down a bit so you can build your drawing skills up. Our professionals are more than happy to guide you through a range of drawing techniques to help in the creation of your final piece
It's up to you whether you tell the bride what is going on. Sometimes it can be hysterical when they have no idea and just walk into a room to find a naked man reclined on a sofa or in some other position!
Although some of our artists come armed with berets to add a bit of artistic inspiration, you can always get the hens to bring one just in case!
Different venues vary so please talk to your holiday advisor when booking for the exact details of the activity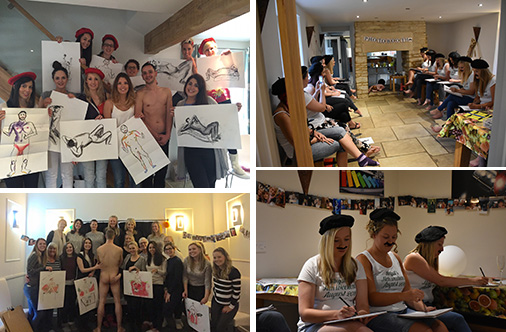 Other Ideas: Craft workshops, pottery workshops
We particularly enjoyed the life drawing (the tutor was excellent and we can't recommend her highly enough to future hen parties).