Clay Pigeon Shooting
Hit the target with this fun countryside pastime
An expert will guide you throughout
Transfers to & from the event can be arranged
Fine tune your aim & accuracy
Choose between a few hours, a half-day or even a full day's shooting
Outside the cottage-based activity
Minimum of 6 people
Dress Code: country casuals
Available: Bath, Bristol, York, Canterbury, Cheltenham, Harrogate, Oxford, Derbyshire, York, Bournemouth, Cambridge, Chester, Edinburgh, Hereford, Leeds, Newcastle, Norwich, Nottingham, Sheffield, Taunton, Tenby, Wells, Winchester
Activity Highlights
Grab your flat cap and bring out your inner marksman, engaging in this exhilarating countryside pastime. One of our more popular activities and certainly one of the most challenging, Clay Pigeon Shooting is in demand. Fine tune your aim & accuracy to hit the target clays which are fired up in the air. Not for the faint of heart, it takes physical strength and a steady hand to become a real marksman. Even if you are new to the sport, you will be guided through the stages to hit the target. This is a great activity for keeping a country feel to your weekend and embracing the great outdoors.
...We loved the clay pigeon shooting - the guys there was brilliant and so accommodating. Really patient too. Please pass on our thanks.
How it works?
Arrive at the venue at the prearranged time
We can help organise transfers to and from the event
Enjoy anything from a few hours to a full day of shooting guaranteed to bring thrills and excitement
You'll be given a debrief and safety advice with information to help keep you on target
Then it is down to you to release you inner marksmanship
Dress code is of course casual with coat, boots and flat caps, if you fancy
Please note: Different venues vary so please talk to your holiday adviser when booking for the exact details of the activity
...The clay shooting was so much fun and the leaders of the groups were brilliant, so friendly and helpful, I would definitely recommend that activity to other hen parties.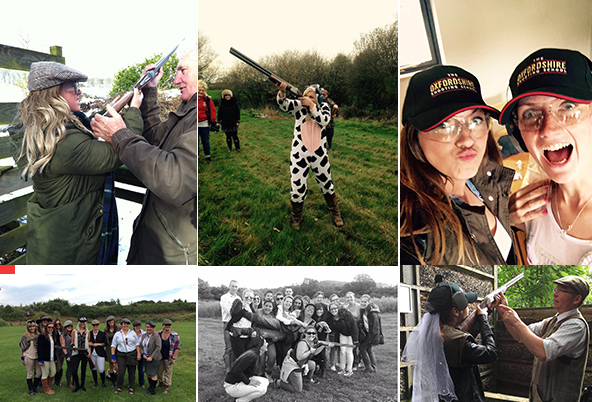 ...Rob and David at the clay shooting were brilliant!! They made it so much fun, and Rob was so knowledgable and good at helping a group of first timers we all had a fantastic time! Would highly recommend them!.
Something Similar
The Clay Shooting session was fab, all the girls were a little nervous at the beginning, but soon got into it, and a lot of them said they'd love to do it again. The instructor was really good with everyone. I myself was one (of the two) pregnant ones, so unfortunately couldn't actually participate, but I watched all the other girls shoot.