Hair & Make-up
Hair and Make-up by the expert stylists
Victory rolls to pin up eye liner flicks, the choice is yours
1-2 hours of fun
Create a 1920's flapper look, 1940's old school Hollywood glam look, 1960's rock chick or any era
Minimum of 10 people
Cottage-based activity
Dress Code: get your glad rags on beforehand
Available: Bath, Bristol, York, Canterbury, Cheltenham, Harrogate, Oxford, Derbyshire, York, Bournemouth, Cambridge, Chester, Edinburgh, Hereford, Leeds, Newcastle, Norwich, Nottingham, Sheffield, Taunton, Tenby, Wells, Winchester
Activity Highlights
Ramp up the fun on your girls weekend with a full hair and makeup restyle. This fun activity is really great if you're adding a theme to your hen weekend or getting ready for your next event such as a vintage evening with cocktail lesson and celebratory chef dinner or even a vintage murder mystery night. Great for hens who love to be pampered and preened & want someone else to create that victory roll or perfect pin-up eye liner flick!
...we all had so much fun having are hair and makeup done, the lady was brilliant, the whole experience was fab!
How it works?
The stylists will arrive at the prearranged time to set-up
If you would like a particular style, that's no problem as our team can create anything from a 1920s flapper look, 1940s old school Hollywood glam look to 1960s rock chick
Each hen member can sit back and enjoy the style transformation
Great activity for vintage weekends or if you have particular themes
Tip: it's best to get dressed-up before you have your hair & make-up styled
Please note: different venues vary so please talk to your holiday adviser when booking for the exact details of the activity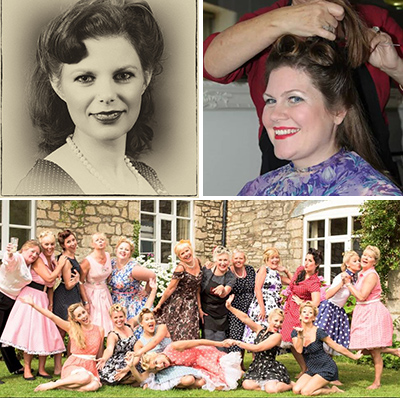 Something Similar
The hair and make up girls were brilliant! Everyone one looked great!